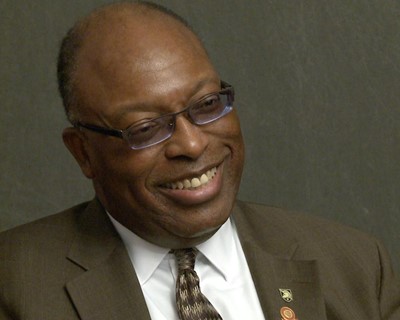 Archie Elam
Archie was born the third of five kids in inner-city Philadelphia. His father was a career Infantryman of World War II, Korea, and Vietnam, who also served in the same segregated unit at the end of World War II as a Sergeant that Archie would command more than 150 soldiers in as a Captain at the height of the Cold War in Germany. His mother attended college by the age of 16 in South Carolina and went on to become a teacher when she met and later married his father. Archie's family in full of military veterans serving in every branch, including his brother, sister, two uncles, eight cousins, and brother-in-law.
Growing up, Archie dealt with the daily gang and gun violence, crime, drug users, racial prejudice, and other dangerous issues that beset his community. Despite the challenges of his community, he became an excellent student. His outstanding academic performance throughout elementary and junior high school gained him admission to Philadelphia's top two academic high schools. He selected the Aerospace Magnet Program at Northeast High School, one of the country's oldest high schools. Archie went on to graduate in the top 10% of his class of more than 1,300 students. He was class president, member of the National Honor Society, an athlete in fencing, track, and basketball, a Boy Scout, and a Civil Air Patrol cadet squadron commander. After receiving both Congressional and Vice-Presidential nominations, Archie entered West Point with the Class of 1976. There he pursued a Bachelor of Science degree in Electrical Engineering and Mathematics and named an Outstanding Graduate in Electrical Engineering in 2017. Archie became a top-ranked member of the Army Fencing Team and the Cadet Brigade Command Sergeant Major as a senior and selected for West Point's Cadet Public Relations Program, where he spoke to the youth of Philadelphia schools. Upon graduation, Archie was commissioned in the US Army's Armor and Cavalry branch.
His Army career took him to a wide variety of troop, command, and staff assignments at the US Army's Armor School, West Point Admissions, US Army Europe, and the US 18th Airborne Corps. After completing graduate study in advanced mathematics and systems analysis, Archie was assigned to the Office of the Secretary of the Army and later, the US Army General Staff in the Pentagon. After his tour in the Pentagon, Archie was assigned to 18th Airborne Corps, and the 24th Infantry Division Mechanized then deployed to Operations Desert Shield and Desert Storm as the head of current operations for 36,000 troops. On his arrival in Saudi Arabia, he was selected for an interview on the Today Show. His division made the deepest attack behind enemy lines in Army history, over 250 miles, to cut off the Iraqi Army escaping Kuwait and helped destroy the Republican Guard. After acquiring a severe back injury on a joint operation, Archie retired from the Army at Fort Bragg and moved to Stamford, Connecticut. He went on to earn an MBA from Duke University, where he was elected class president and received their Alumni Leadership Award. He then went on to pursue a second career as an operations and technology executive with GE Capital, United Technologies, and as a management consultant in strategy and operations with the George Group and Accenture.
Archie has served on many community organization boards and as the president of several organizations. These include election to the Stamford Board of Education, former president of 100 Black Men of Stamford, former president The Westchester Black MBA Association, a life member and former president of two chapters to the Alpha Phi Alpha Fraternity, the Boule' Sigma Pi Phi Fraternity, and as the Chair of the Connecticut Ballet. While at GE Capital, he was selected by the CEO to lead GE's 20,000-member volunteer service organization where he was awarded a citation from the Connecticut General Assembly and Keys to the City of Danbury for governing a state environmental restoration project.
Archie continues to remain active in veterans' affairs. He sits on the Connecticut State Veterans Leadership Council, the Veterans Council, Service Academy Selection Committee for Connecticut's 4th District Member of Congress, and the Veterans Council for the state's senior Senator. After Sept 11th, he was chosen as a military affairs analyst for a local television station. Archie is a life member and State Officer for the Connecticut Veterans of Foreign Wars. He most recently served as Commander for the Fairfield County 1st District, overseeing twenty VFW posts and 2,500 members. Before that, he was responsible for the management of visitation programs with wounded and disabled veterans across the state. He holds numerous US and foreign military decorations, was awarded the commission as a Colonel from the Governor of Kentucky and selected to Connecticut's Veteran's Hall of Fame. He is a member of the West Point Association of Graduates Board of Directors.
Archie is a loving and proud single father of two daughters who were nationally ranked competitive figure skaters and varsity lacrosse goalies. Katherine works in the fashion industry in New York City and Alexandra is a senior at Tulane University majoring in English and Digital Communications.