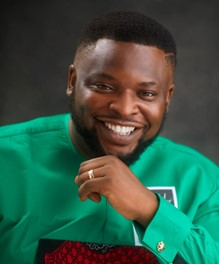 OLUWASEUN SHOBO
Voice Arts® Global Influencer Award
Voice Actor / Educator
SHOBO is an incredibly gifted individual. Fondly called the BrandMASTER, Shobo is a sought-after brand consultant, premium voice over talent, author and an inspirational speaker.
He began his career as a brand consultant with a passion to build domestic brands from Africa up to global relevance. He has worked with various multinational brands. He is also responsible for the birth of many start-up brands in Nigeria and has successfully managed their brands through their growth and expansion stages.
With over two decades as an active player in the voice-over industry; his passion for its growth and a need to groom African talents for global positioning , inspired him to start the pioneer training hub for voice talents in Africa (The first-ever in Subsaharan Africa), The Voice Over Academy (voiceoveracademyng.com). In addition to this, he established the continent's largest and most professional pool of voices- The Voice Over Bank (voiceoverbank.com.ng) and Africa's premier practice and resource hub for voice over talents. ( voiceoverdrill.com) . These various initiatives have birthed many of Africa's top voice over talents and content creators.
He has also been the voice responsible for some of Nigeria's widely loved commercials.
Shobo's projects have attracted global attention which includes a host of local and international media houses. He has also earned numerous awards and accolades from various platforms and higher institutions across Nigeria due to the wealth of experience he has garnered in both the Marketing Communications and Voice Over industry.
His newly authored workbook – VOCAP [Voice Over Career Advancement Plan ] is already giving clarity to several voice talents around the world.
Shobo is a professional member of the World Voices Organization (WOVO) USA and also the Voice and Speech Trainers Association (VASTA), USA where he sits on the board as the first African and Nigerian board Director. He also sits on the advisory board of several other organizations.
He has immensely enhanced the love for voice overs, branding and vocal awareness among existing and new brands through the timeless teachings and nuggets he shares through his engagements, social media platforms and classes.